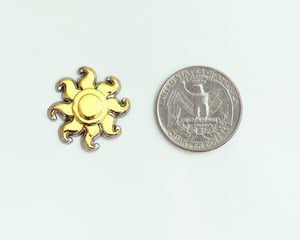 $

5.00
The Sun, and the mark of the princess who wields it!
This 3d relief pin is gold/nickel dual plated and very very shiny. Wear it to a fancy event, or just because, it's going to look good either way.
For $1 more, add a tie-tack connector and wear it together with your Clestiea!
The pins are fairly small and do present a choking hazard. Keep out of the reach of children, pets and baby dragons. Do not swallow pins. Connector on back of pin is sharp, don't poke yourself or anyone else with it. Consult a specialist if swallowed. No, you still don't get my quarter