Black Lives Matter Charity Titanium Keychains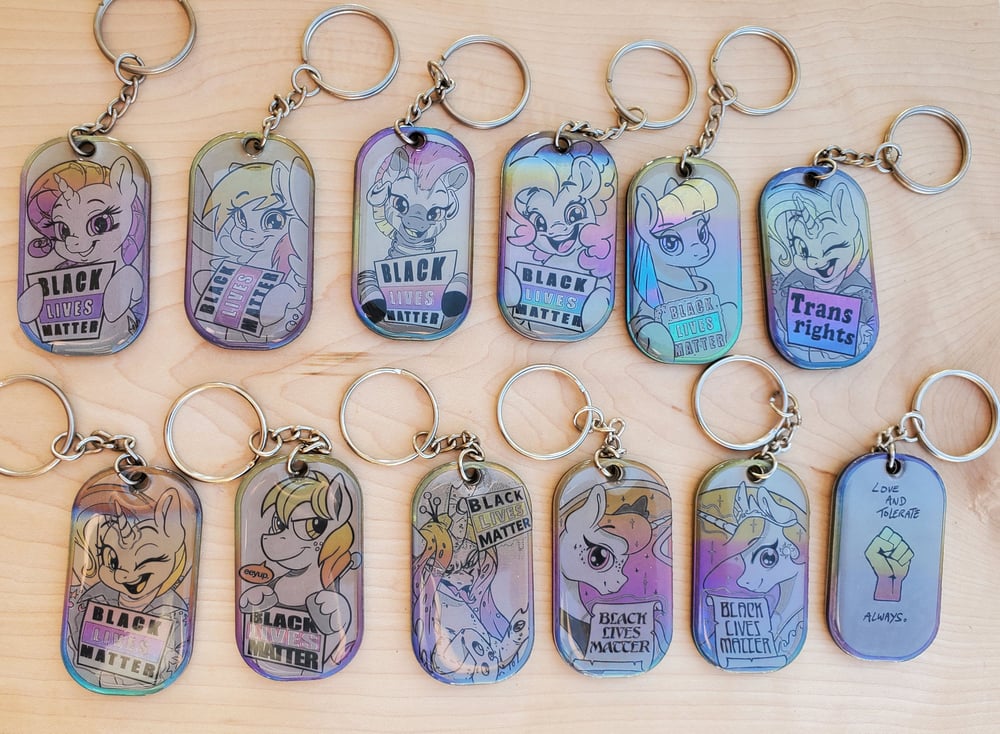 PLEASE READ THE INSTRUCTIONS FULLY! IF YOU JUST ORDER A TAG AND DON'T FILL OUT THE FORM, THE ORDER WILL BE INCOMPLETE, AND WILL BE REFUNDED!
These amazing dog tags were created with art by Dilarus (dA gallery), Amy New and art help from Elijah_draws, Amarynceus (dA gallery), and Krampus_bitch, as well as the wonderful help of Foalpapers with the back-end and validations. We wanted to raise money and awareness of the issues and injustices that systemically affect people of color in our communities, and bring the funds directly to the charities that step in and provide help.
IN ADDITION TO BUYING ONE OF THESE TAGS FROM THE SITE DIRECTLY, you will need to donate $15 per tag to a charity (or charities) of your choice from the below list. Once you've made your donation, you can upload a screenshot of the receipt to THIS GOOGLE FORM HERE, or forward the receipt email, along with your order number to bronies4blm@gmail.com.
The charities that we're asking you to support are:
Black Lives Matter
Black Lives Matter was formed in response to the acquittal of George Zimmerman in 2013 and quickly became a national movement to end police brutality. The organization continues to mobilize and amplify national dialogue around state-sanctioned violence
Stephen Lawrence Charitable Trust
The Stephen Lawrence Charitable Trust inspires and enables young people from disadvantaged backgrounds and underrepresented groups into professional careers. (This charity is in the UK, and accepts donations in GBP!)
Fierce NYC
Fierce is New York-based organization catering to the extremely underserved LGBT youth of color.
Trans Women Of Color Collective
TWOC offers support and resources for trans women of color, a highly marginalized community.
NAACP
The NAACP is a long standing civil rights organization that works on a broad scale to achieve racial justice for citizens in urban communities.
Buying the tags here covers some of the material costs, and the shipping cost, the rest of the cost, as well as the time, is being donated by us! Please use the below links for the charity donations! It needs to be $15 for each tag that you're ordering here.
The tags themselves are solid titanium, color anodized, and laser etched. They have epoxy domes to protect the designs, and come on a keychain chain.
They are available for a limited time!
Also the Mystery Tag is a pony not shown in any of the photos, so get it and find out!